Emergency Skills, Inc. (ESI) is a leader in comprehensive automated external defibrillator (AED) programs & emergency response training for multi-location workplaces. Based in New York City, organizations nationwide benefit from our industry expertise, meticulous attention to details & commitment to helping save lives. Our goal is to foster long-standing relationships by ensuring client satisfaction through superior service at a competitive price. With over 40 years of experience, corporations, government, schools & non-profits trust ESI for AED implementation and management services including:
Comprehensive Automated External Defibrillator (AED) products & services
Philips HeartStart AEDs & accessories
American Heart Association Heartsaver CPR/AED training & certification
American Safety & Health Institute training & certification
OSHA recognized first aid training
Exclusive ALIVE!net online AED management tool
Public health law compliance & medical oversight for legal liability protection
Site response & emergency protocol plan
Post-event data & municipal reporting
AED inspection
AED Automated External Defibrillators
Master distributor for Philips HeartStart defibrillators & accessories, the global leader in effective & reliable AEDs
Easy to use and maintain, reliable, versatile & cost-effective options
Site assessments to determine the best AED model & location
Inspection, management & support
CPR, AED & First Aid training
Top 10 American Heart Association Training Center
All instructors are certified by AHA
Adult, child & infant CPR, AED, choking & first aid courses
Training for workplace & healthcare providers
Flexible training, at your location or ours
Instructor-led hands-on practice & skills checks
Blended courses combine online instruction with hands-on practice & skills check
OSHA workplace safety training
New York City based instructors are trained & employed by ESI
ALIVE!net online AED management system
ESI's exclusive online AED program tracking system
Customizable reports that track AEDs, accessories, maintenance & locations
Automated alerts when equipment or certifications need to be updated
Tracking for class schedules & registration, course registrants & trained responders
Password protected AED program management for multiple locations
Legal compliance & medical direction
Documentation for legal compliance to protect your organization from legal liability
Required prescriptions for AED purchase
Physician oversight to ensure your AED program meets government regulations
Guidance for optimal equipment, placement, training & response plan
Emergency response protocol, policies & procedures tailored for each location
Registration with local EMS & state agency
Post-event data retrieval & reporting

American Heart Association Training Center
American Heart Association CPR Instructors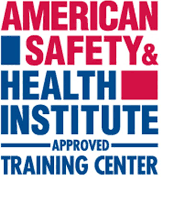 American Safety & Health Institute Training Center

Philips AED Master Distributor

Empire State Development
NYC Dept. of Small Business Services
NAICS code:
611699 First Aid Instruction & CPR training
and certification
SIC codes:
5047 Medical & Hospital Equipment & Supplies
8299 Schools & educational services
NIGP codes:
345 First aid and safety equipment and supplies
948 Health related services
DUNS: 097509335
Industry experience:
Corporations
Schools
Government
Law Enforcement
Health & Wellness
Sports & Fitness
Community Centers
Senior Centers
Nursing Homes
Real Estate
Construction
Facilities
Security
Industrial
Manufacturing
Hospitality
Law Firms
Financial Firms
10 reasons for choosing ESI
1. Comprehensive workplace AED expertise:
With extensive industry knowledge, corporations, government and non-profits rely on ESI for implementation of OSHA compliant, multi-location AED programs.
2. Customized plan based on your priorities:
Whether you need advanced technology, ease of use, training, support, risk mitigation or legal compliance, we can develop a plan to fit your requirements.
3. Superior client service:
Quick, responsive and expert customer support is the reason ESI has implemented more AED programs in New York than any other company.
4. Turnkey AED program implementation:
From site analysis to recommendations for AED model, placement, training, inspections and compliance documentation, we sweat the details so you don't have to.
5. Flexible training options:
Certified AHA instructors lead interactive workplace specific emergency response classes at a location, date and time to suit your needs.
6. ALIVE!net:
Online tool tracks vital AED product and training information, and sends alerts for equipment and certification expiration for easy program management.
7. Legal compliance:
We will alert you of updates to AED rules and regulations to protect your organization from legal liability.
8. Medical oversight:
Our Medical Director can ensure your AED program is optimized for each location and meets all government mandates to mitigate risk.
9. Ongoing support:
ESI will send critical updates and maintenance notifications to assure your organization is ready to respond to medical emergencies.
10. Same day delivery:
ESI stocks HeartStart AEDs and essential accessories to provide same-day delivery in New York City.