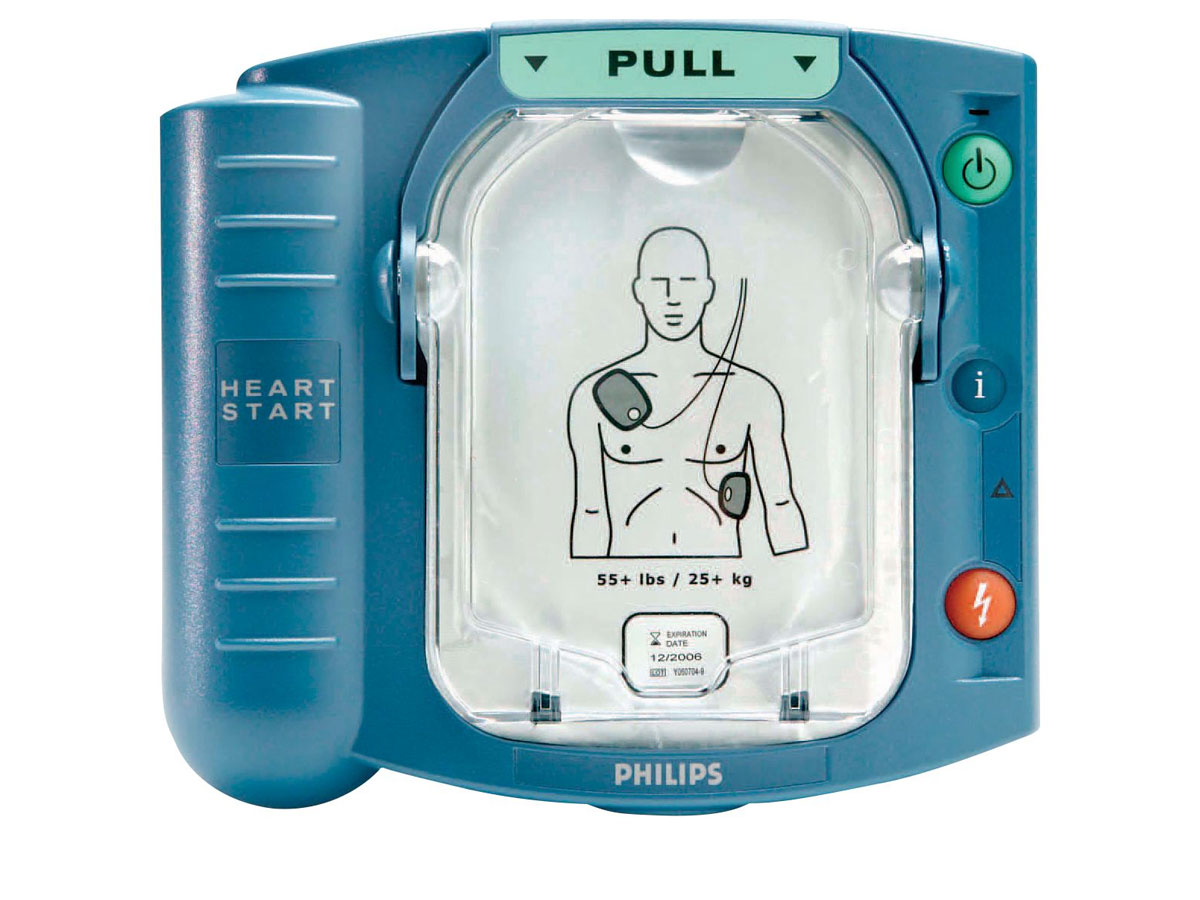 What's included:
• Philips HeartStart OnSite Defibrillator
• 8-Year Manufacturer's Warranty
• Philips OnSite Adult SMART Pads Cartridge
• Philips OnSite Lithium Battery Pack (4-year warranty)
• Philips OnSite User's Manual
• Philips OnSite Quick Use Guide
• Philips Standard Carrying Case (optional, other carrying cases available)
• Fast Response Kit (optional)
Download HeartStart OnSite brochure
Benefits
Easy to use
Made for people who have never used a defibrillator.
Ready to use when you need it: device is delivered with battery and pads pre-installed.
Small, portable and lightweight (3.3 pounds with pads and battery).
The first and only AED available without a prescription.
Smart
SMART Pads sense when they are placed on the patient.
Voice instructions adjust to match responder actions and pace — next steps are not announced until rescuer is ready.
SMART Analysis automatically assesses the heart rhythm. It will not deliver a shock unless the rhythm is determined to be shockable — even if the shock button is pressed.
Step-by-step visual & audio instructions that adapts to your pace
Life Guidance provides simple, step-by-step voice instructions tailored to the responder's actions through the entire process – from placing pads on the patient to performing CPR & delivering a defibrillation shock.
Calm & clear CPR and AED audio guidance helps you to respond quickly & confidently during a cardiac emergency.
Clear, intuitive visual instructions communicate instantly, with minimum reading.
Fast shocks to improve success
Quick Shock reduces the critical time from chest compressions to shock delivery.
Patented technology delivers shock treatment typically in just eight seconds.
SMART Biphasic delivers highly effective shock while reducing harmful side effects.
Reliable & easy to maintain
Built-in self tests automatically conducts 85 daily, weekly & monthly tests, including pad & battery tests.
Infants & children
With Infant/Child SMART Pads cartridge installed, the system automatically adjusts to a lower energy level & instructions are modified for performing infant/child CPR. (Infant/Child SMART Pads cartridge is sold separately & available only with prescription.)